Both Kroger and Tom Thumb are among some of the most well-known supermarkets in the United States. They both sell similar items and cater to millions of customers a year. But if you are deciding between the two, which one is better?
I compared both of these stores based on three major decision-making factors. These three factors are:
By the end of this article, you should have a much better idea of which grocery store is better for you to shop at based on your needs.
Which is Better: Kroger or Tom Thumb? Kroger is cheaper than Tom Thumb by a range of 12% to 40% across a majority of shopping categories. Additionally, Kroger also has around 3.5 more products available to buy than Tom Thumb. However, Tom Thumb does have better product quality than Kroger, according to the FDA.
Is Kroger Cheaper Than Tom Thumb?
Price is arguably the biggest decision making factor when it comes to deciding on which grocery store to shop at. Most customers enjoy getting the most savings, or the best bang for your buck.
I compared store brand items across multiple common shopping categories to see exactly which store has the cheaper products, Kroger or Tom Thumb.
| | | |
| --- | --- | --- |
| Category | Kroger Brand | Tom Thumb Brand |
| Beverages | ✓ | |
| Baking Goods | | ✓ |
| Canned Goods | ✓ | |
| Dairy | ✓ | |
| Dry Goods | ✓ | |
| Frozen Foods | ✓ | |
| Personal Care | ✓ | ✓ |
| Cleaners | ✓ | |
| | | |
Kroger is significantly cheaper across a majority of common shopping categories. More specifically, Kroger is 12% to 40% cheaper than Tom Thumb for almost every category. 
To give you a better idea of the price comparison, I made a chart that compares store brand products from each common shopping category. This graph clearly shows that Kroger is cheaper than Tom Thumb. However, For certain categories, like beverages and canned goods, Kroger is only cheaper by a very small margin.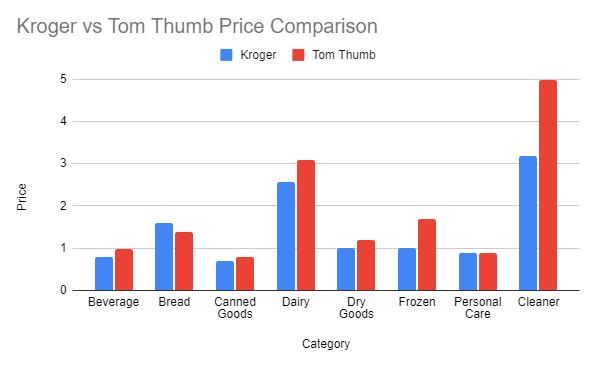 Something else that is notable is that they both have the same low price for personal care items. The only category where Tom Thumb was the cheaper option was in the Bread & Baked Goods category. So, for a majority of shopping categories, you'll get the most savings at Kroger.
Product Quality: Kroger vs Tom Thumb
Product quality is another crucial factor when deciding on which store is best for you to shop at. Many shoppers prioritize quality and will only shop at the store that gives them the highest quality.
To see which store has the best quality, I took a look at the FDA recall database which shows all the product recalls a store has had in recent times. By looking at this, it should give a good idea as to which store has higher quality products. In other words, the store with more recalls is likely to have lower quality products.
| | | |
| --- | --- | --- |
| Category | Kroger Recalls | Tom Thumb Recalls |
| Animal & Veterinary | 2 | 0 |
| Biologics | 0 | 0 |
| Cosmetics | 1 | 0 |
| Dietary Supplements | 0 | 0 |
| Drugs | 2 | 0 |
| Food and Beverages | 46 | 3 |
| Medical Devices | 0 | 0 |
| Radiation Emitting Products | 0 | 0 |
| Tobacco | 0 | 0 |
According to the FDA database, Kroger has significantly more product recalls than Tom Thumb. More specifically, Kroger has 17 times more product recalls than Tom Thumb. This suggests that Kroger has more instances of lower quality items in their stores. 
This is actually a substantial difference between the two. Not only does Kroger have the most product recalls out of every grocery store I have looked at, but Tom Thumb has the second least. So there is a clear difference in the quality. Tom Thumb has virtually zero product recalls in recent times.
Tom Thumb is a clear winner with product quality, so if you are someone who enjoys product quality, then Tom Thumb is where you should shop. 
Product Variety: Kroger vs Tom Thumb
The amount of products that a customer has to choose from is something to consider when deciding between stores. So when looking at the amount of product variety that each store offers, which one has the most.
Something to note is that Kroger and Tom thumb are both considered supermarkets. This means that they both carry consumables, produce, and other related products.
| | |
| --- | --- |
| Total Kroger Products | Total Tom Thumb Products |
| 70,000 products | 20,000 |
| | |
Kroger clearly has more product variety than Tom Thumb. More specifically, Kroger has 3.5 times more products available to purchase at their stores when compared to Tom Thumb. This is a pretty substantial difference.
What this means is that you are likely to find a lot of product diversity at Kroger. So, different brands, flavors, food types, etc. While you shouldn't be at a shortage of anything at Tom Thumb, you will be sure to find everything you need at Kroger.
Which One Should You Shop At: Kroger vs Tom Thumb?
When to shop at Kroger: Despite not having the highest quality products in comparison, Kroger does offer cheaper prices and more product variety. What this means is that you have more options to pick from at a cheaper price, which are two factors that are almost irresistible for most shoppers.
Even though Kroger does have a higher number of product recalls, the food and products there are still safe for purchase and consumption. So, if you can get past the instances of product recalls at Kroger, then you should choose to shop there.
When to shop at Tom Thumb: Tom Thumb is the more expensive of the two, and they have less products to choose from on average. However, despite having less product variety, they still have an incredible selection of products. Unless you are a shopper that needs 10 different options for everything you are buying, their product variety won't be an issue.
Final Thoughts: Tom Thumb vs Kroger
Both stores are fierce competitors on all 3 of these comparison factors. There is a reason why they are among some of the most well known stores in the United States. While each strives in their own areas, they both are great choices to shop from.
Something to note is that while Kroger offers the cheaper prices out of the two, Tom Thumbs prices are actually very cheap in comparison to the industry averages. Regardless of where you shop between these two stores, you are likely to score great deals and get an incredible amount of savings. So, all in all, both Tom Thumb and Kroger offer shoppers a lot of value in all aspects of the shopping experience.