If you're deciding to shop at either Publix or Harris Teeter, and there's many factors that you need to consider. Things like price, product quality, and probably variety are just a few things that you should look at before deciding on which store to shop at.
So in this article, I looked at those three factors and compared them between each store. By the end of this article you should have a good idea as to which store is best for you to shop at based on your needs.
Comparison Factors
Which is Better: Publix or Harris Teeter? Harris Teeter is cheaper than Publix by a range of 8% to 24% for common store brand products. Harris Teeter also has slightly better product quality, according to the FDA.
Is Publix Cheaper Than Harris Teeter?
Most shoppers would consider price as the biggest decision making factor when deciding between two grocery stores. The store that offers the most affordable prices, or the one that provides the best bang for their buck.
So, I looked at a variety of different store brand items from each store and grouped them into categories to see which store offers the best pricing in each common shopping category.
| | | |
| --- | --- | --- |
| Category | Harris Teeter Brand | Publix Brand |
| Beverages | ✓ | |
| Baking Goods | ✓ | ✓ |
| Canned Goods | ✓ | |
| Dairy | ✓ | |
| Dry Goods | ✓ | |
| Frozen Foods | ✓ | |
| Personal Care | | ✓ |
| Cleaners | ✓ | |
| | | |
Harris Teeter is cheaper than Publix by anywhere from 8% to 24% for a majority of popular store brand items.
From the price analysis, it seems that Harris Teeter offers significantly cheaper prices in a majority of common shopping categories. 
The only category where Publix is cheaper is in the personal care category. So, unless you're shopping for personal care goods, then you're going to save more money at Harris Teeter.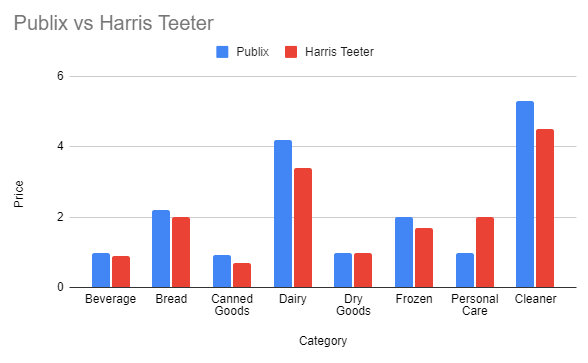 To better represent the comparison between different categories, I made a bar chart that shows the average prices for each store in each category.
For almost all the shopping categories, Harris Teeter is cheaper. It should be noted though that Publix is not incredibly more expensive than Harris Teeter. For most items, Publix is less than a dollar more in terms of cost,
Product Quality: Publix vs Harris Teeter
The quality of products at a grocery store also contributes to the decision making process. In other words, customers care about the quality of the goods they're buying. Give them peace of mind but they are purchasing it safe to consume or use.
So to figure out which store has better quality products, I looked at the FDA's product recall database. This database shows how many product recalls a store has had in recent years.
The less product recalls a store has, The more likely they are to have higher quality products.
| | | |
| --- | --- | --- |
| Category | Publix Recalls | Harris Teeter Recalls |
| Animal & Veterinary | 1 | 0 |
| Biologics | 0 | 0 |
| Cosmetics | 0 | 0 |
| Dietary Supplements | 0 | 0 |
| Drugs | 0 | 0 |
| Food and Beverages | 14 | 14 |
| Medical Devices | 0 | 0 |
| Radiation Emitting Products | 0 | 0 |
| Tobacco | 0 | 0 |
According to the FDA, Publix has had 15 product recalls whereas Harris Teeter has had 14 product recalls. Although these numbers are close, Harris Teeter has had fewer product recalls in total.
Through this, it is safe to assume that Harris Teeter has slightly higher quality products as they have had less recalls in recent years.
For reference, the average range for product recalls for grocery stores is anywhere from 10 recalls to 22 recalls. So both of these stores are safely within the average range of the industry.
Product Variety: Publix vs Harris Teeter
Despite not being as important of a factor as price or quality, product variety also has its place in the decision making process. 
The amount of options that a customer chooses from is as important as customers need to be sure they are going to find everything that they need plus more when they visit the store.
| | |
| --- | --- |
| Total Publix Products | Total Harris Teeter Products |
| 30,000 | 30,000 |
| | |
Unsurprisingly, all stores carry around the same amount of items as one another. The reason why this is surprising is because both stores are considered and categorized as supermarkets. This means that they are generally going to carry the same type and amount of items.
The industry average for the amount of products that a grocery store carries is around 31,000 products. So both of the stores fall slightly short of the average, but they are close enough.
So no matter which store you visit, you are likely to find the same types of products and the same amount of products at each.
What Does Each Store Sell?
Each store sells the same general items. While they each have their own private label products, you'll have no problem finding big brand names.
If you are a health-conscious shopper, then you'll be able to find the same selection of organic, non-GMO, etc. types of products. Neither of the stores specialize in health-conscious items, but you should be able to find a good selection at each.
Which One Should You Shop At: Publix vs Harris Teeter?
When to shop at Publix: Despite not having higher prices and lower quality, Publix is still a good option. It's worth noting that both their prices and quality were only  slightly off of Harris Teeter's.
When to shop at Harris Teeter: Harris Teeter offers cheaper options and slightly higher price quality. So it's best to shop here if you consider yourself a price conscious customer As you will likely see the most savings.
Final Thoughts: Publix vs Harris Teeter
After the analysis, it is clear that Harris Teeter does offer more value than Publix. However it should be noted that Publix is still a phenomenal grocery store. In comparison to the industry, their prices are still relatively low not to mention their quality is a lot higher than others grocery stores.
So, if you are left to only shop at Publix, you'll be in good hands.